112N South Street, Walcha, New South Wales 2354
$325,000
Unique Eco House In The Highlands
TO ENQUIRE ON THIS PROPERTY, PLEASE CLICK ON THE 'EMAIL AGENT' BUTTON ABOVE

Walcha is located in the highlands close to the Wild Rivers National Park 45 minutes from Armidale, 55 minutes from Tamworth and 2 hours from Port Macquarie.

Walcha is mainly a wool, cattle and sheep producer but also has become home to many creative artists and the like. Locals consider it as being a "creative town". It has a Central School, Catholic School, Art Gallery, Metal Gallery, three hotels, RSL, Bowling club, Golf club and many other sports clubs. It is also close to the Wild Rivers National Park. Local rivers offer good fishing.

About The House
Designed by Paul Kinny and architect Jo Yokim Ho (Armidale), this house has been built to suit the climate as well as living in this modern sustainable world.
Located in a quiet neighbourhood close to the shops a short walk from the centre of Walcha,
Its raised elevation provides extensive views to the north of open country, paddocks and dams.

Thirty seven steel piers encased in concrete penetrate the ground down to rock. Some piers are 1.7metres in depth. The whole floor frame is made of steel. An underlining of zincalum supports a thick layer of Western Red Cedar.

This material creates a high level of insulation as well as being white ant protectant. Yellowtongue flooring completes the basic floor sandwich. The floor starting height commences at 400mm allowing white ant protection.

Polished hardwood flooring and carpets have then been installed in appropriately chosen areas.

Both bathrooms have been installed with boat deck flooring. Sikaflex corking between specially chosen boards create a notable feature. The ceiling is Gyroc covered by a thick layer of quality insulation. Yellow tongue flooring runs the length of the upper ceiling allowing easy access, movement and storage. All exterior walls are constructed from radiate sleepers. (200x50)

7mm ply then cover all walls. Heavy duty zincalum covers the exterior. Three layers of insulation protect the interior from both heat and cold. This wall construction method is incredibly strong. Hallway walls are lined with Tallowood. The extensive verandas are all AAA tallowood grade.

Steps are oiled Silvertop Blackbutt. Top quality white ant resistant 200 mm poles support the roof beams which in turn support the roof trusses. Window frames are laminated white beech, Norfolk Island pine employing boat building epoxy construction. Removable blue gum skirting and facia that allows for ease of painting features throughout if required.

Other Features ... Three bedrooms, main with ensuite. All carpeted. Large built in wardrobes. Bathroom with shower and separate bath. Large kitchen (polished floorboards) and a very large open plan lounge / dining room. (Carpet) Hall and lobby (polished floorboards) Double and triple insulated walls and floors. Double glazed windows. 60,000 litre rain tanks. Solar hot water panels. Gas stove.

A wood heater (Bakers Oven for cooking) that warms the house in winter as well as providing hot water. Town water (only if necessary). Sewer connected. Installed ceiling ducting from lounge to main bedrooms for warm air transfer. Shower electric boost.

A disabled ramp access is also available. Huge under floor storage and car parking.

Bespoke kitchen cabinets ... Most on wheels for alternate positioning. LED downlighting in Kitchen, Pantry and main inbuilt storage cupboard. Three specifically designed sideboards to suit lounge room and lobby/entry.

Large walk in pantry. Four built in storage cupboards. Refrigerator, washing machine and gas electric stove. A large covered verandah surrounds the living area on three sides.

DETAILED PHOTOS CAN BE PROVIDED OF ALL OF THE ABOVE ON REQUEST

House Details.
Roof ... Zincalum Manor Red, trusses.
Ceilings ... Gyroc lounge/kitchen, brace sheeting/bedrooms, blueboard/bathrooms.
Exterior Wall Lining ... Zincalum, blueboard.
Interior Wall Lining ... Ply, Tallowood, Brushbox tongue and groove, mixed hardwood tongue and groove, Limestone Tiles, Painted Hessan, Ceramic Tiles, Porcelain Tiles.
Windows ... White Beech, Norfolk Island Pine, Polyester Surrounds.
Floors ... Yellow Tongue, Formply, mixed hardwood tongue and groove, Western Red Cedar,
Zincalum, Sikaflex, New Carpet.
Verandahs ... Tallowood.
Door Jams ... Stringy Bark.
Doors ... Western Red Cedar, Hoop Pine, Oregon, Marante, Australian Red Cedar, Norfolk Island Pine.
Bathroom Vanities ... Norfolk Island Pine, Tasmanian Oak, Formply.
Kitchen Cabinets ... Blue gum, Mahogany, Stringy Bark, Formply, Pine, mixed hardwood,
Ceramic floor tiles.
Skirting and ceiling trim ... Blue gum.
All Natural Timber Finish ... Hardened Tongue Oil.
Stairs ... Silver Top Black Butt.

Areas ... Site Area 795.16 SQM
Roof Area 306.70 SQM
Entire Dwelling 183.02 SQM
Unconditioned Space 8.85 SQM



To enquire on this property, please click on the ""Email Agent"" button above.

Disclaimer: We have in preparing this information used our best endeavours to ensure that the information contained herein is true and accurate, but accept no responsibility and disclaim all liability in respect of any errors, omissions, inaccuracies or misstatements that may occur. Prospective purchasers or tenants should make their own enquiries to verify the information contained herein.
House Features
General Features
Bedroom: 3
Bathrooms: 2
Garaging: 1
Land Size: 300 m2 (approx)
This listing last updated: 12th Apr 2017
For Sale Or Rent By Owner

0410 800 950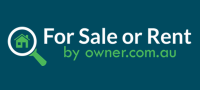 For Sale or Rent by Owner